Donating debunked
Where your clothing may actually end up after you push it into a donation bin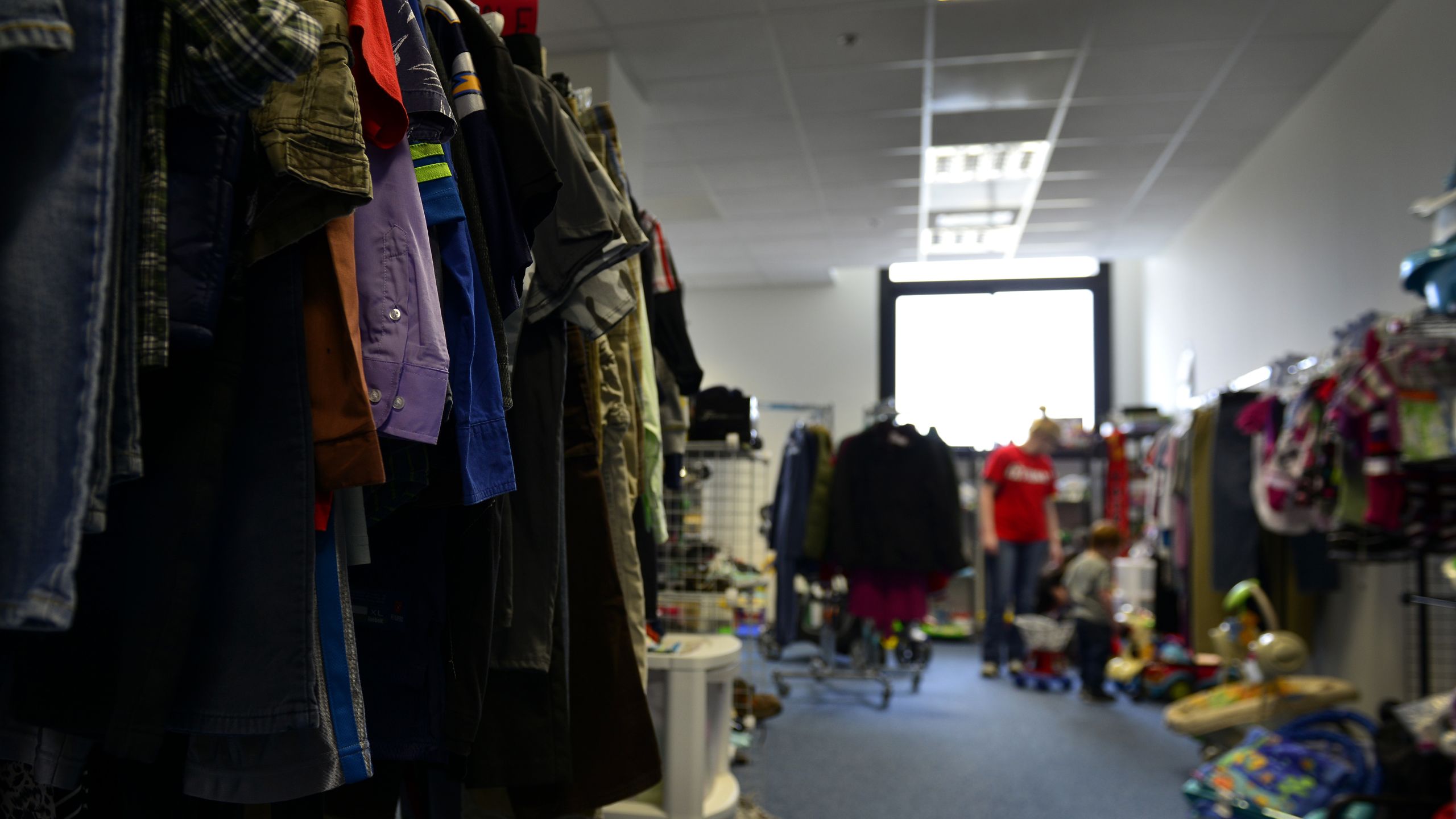 Photo courtesy of Wikimedia Commons
Photo courtesy of Wikimedia Commons
Driving down streets in Hamden, Wallingford and other surrounding towns, you may spot a handful of big, metal bins settled in corners of parking lots at gas stations, laundromats or car washes.
On the side of each bin printed in big letters may read "Clothes & Shoes." There is probably a big "THANK YOU!" stamped somewhere on it too.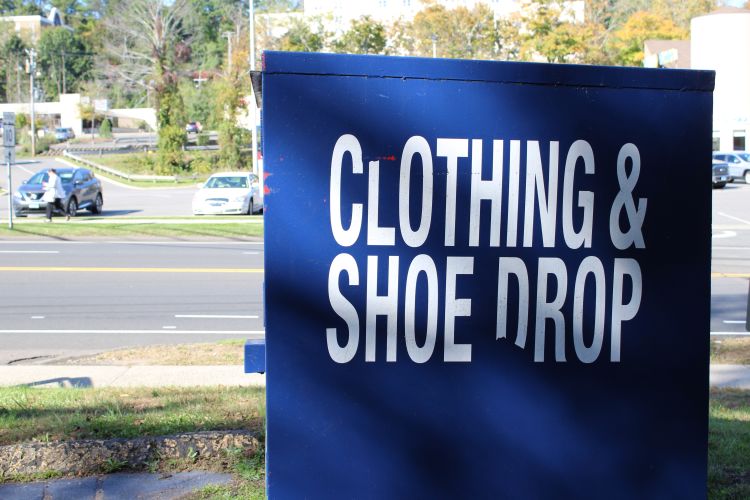 There may be a pile of stretched out pajamas shoved in the back of your bottom dresser drawer or a bag of too-small t-shirts in the trunk of your car. The first place you may think to drop your unwanted clothes may be in one of these bins.
But have you ever put any thought into where the clothing you may drop in ends up?
Where does all of it go?
While it may be true that a small portion of the clothing put into bins are given to people in need in donor's communities, it is in fact untrue for the majority of it.
The truth of the matter is most donated clothing, specifically clothing collected in donation bins, is either resold of recycled.
While most bins are run by nonprofit organizations, some are run by for-profit companies and do not operate as a charity at all.
Not all clothing given away in donation bins ends up on the backs of people who need it in local communities.
Some for-profit companies hosting bins include SpinGreen, USAgain and Viltex. 57 bins in New York City were removed by the Department of Sanitation in 2014 for being for- profit, according to an article by DNA Info.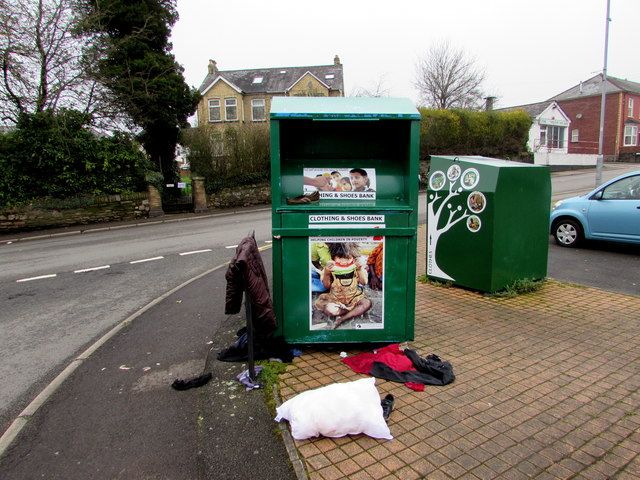 Photo courtesy of Geograph
Photo courtesy of Geograph
Clothing resold
Planet Aid, Inc. is one nonprofit organization that hosts bins on local properties.
Chelsea Lindner, Communications Specialist for Planet Aid, Inc., confirmed that the nonprofit sells the clothing it collects. Planet Aid, Inc. says that only occasionally are items given to a local cause.
"Planet Aid sells the clothing it collects."
In reference to the Planet Aid website, the clothing is picked up from bins, put into a truck and brought to a warehouse. The website says clothes are occasionally sorted for a local cause, however most of the clothing is wrapped in cloth or plastic and baled into 1,000 pound packages without being sorted.
Planet Aid, Inc. says the bales are then sent to sorting houses where people go through the clothing and categorize it by quality and type. Depending on those factors, some of good quality clothing is sold to thrift stores in the U.S., however most of the clothing is sold overseas.
Planet Aid, Inc. says the clothing sent overseas is sold to importers in developing countries.
"The consumption of clothing in developing nations has risen dramatically."
Local vendors buy bales from the importers- usually a few bales a week- and resell the clothing, for example, in an outdoor market. Those local vendors decide what they will charge for the clothing based on the quality or the brand name.
There is a difference of opinion on whether or not selling clothing to people in developing countries overseas is the "right thing to do."
Planet Aid, Inc. believes it is a positive way to utilize clothing donated in the bins. The non-profit argues that simply giving clothing away to people in developing countries causes more problems than it does help. Others argue that giving clothing away for free is a temporary fix to large scale poverty and takes away employment opportunities for local people who could make a living off of selling clothing.
While this may be true for the livelihood of on-the-street clothing resellers, Dr. Patrice Luoma, a professor of entrepreneurship at Quinnipiac University, has found through her research that selling clothing overseas is actually hurting part of those economies in developing countries.
"When we sell cheap, used clothing to countries in Africa or Asia, that competes with their local clothing manufacturers. Because our used clothing is so cheap, they can't really be competitive and it can put those local businesses out of business. That's actually a very bad thing for their local economy- yes, people might get cheaper clothing but now they don't have jobs because they're not making the clothing there."
Clothing recycled
In addition to researching how selling clothing overseas affects global economies, Dr. Luoma has made it her mission to research sustainability and environmental issues and harm. Her area of expertise resides in waste of all kinds.
Dr. Luoma says not all of the clothing Goodwill collects from the bins can actually be sold in its thrift stores. Dr. Luoma says Goodwill can only sell about 20% of the clothing it receives in its stores.
The demand for used clothing is not that high in the U.S.
So what happens to the remaining clothing that can't be sold in domestic thrift stores or is sent overseas and cannot be sold as clothing there?
Not all of the clothing put into donation bins can be resold as full pieces of clothing. Depending on the condition, the clothing may be able to be recycled instead. According to the Connecticut Department of Energy and Environmental Protection (DEEP), unwearable clothing can be recycled and made into rags, thread, insulation or stuffing for different items.
The Council for Textile Recycling reports that the U.S. generates an average of 25 million pounds of textiles a year, which includes clothing, footwear, towels, bedding, etc.
That equates to about 82 pounds of textiles per person per year. Of that 82 pounds per person, only 15 percent is donated or recycled.
It ends up in our landfills.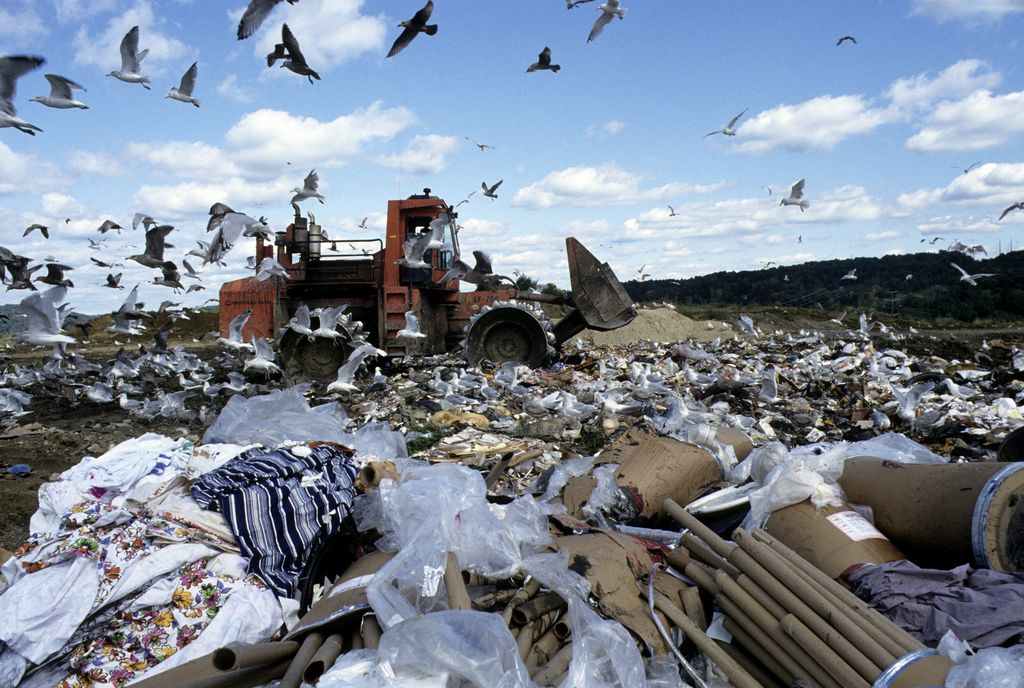 Though not all clothing collected in the bins are guaranteed to end up in thrift stores, sold overseas or recycled, donating clothing does prevent a large portion of clothing from going directly into landfills. In fact, that is one of the main reasons why organizations like Planet Aid, Inc. operate.
According to Planet Aid's website, the nonprofit collects around 100 million pounds of clothing each year, keeping that many pounds out of landfills annually.
"The textile industry has become among the most serious polluters on the planet. At Planet Aid, we aim to improve clothing utilization and reduce the environmental harm by making it more convenient for consumers to drop off their unwanted clothing and thus avoid wasteful disposal."
So many people still throw their clothes directly into the trash however. Dr. Luoma says avoiding throwing clothes away is the best option, because we are running out of landfill space on this planet.
About 11% of landfill waste is material kind of waste. Landfills are bad for the environment. We don't want to have to throw things into the land and have them be there forever because the way that they're made- they seal them, they tighten them up, so pretty much anything you put in a landfill is there forever. You don't want to have to put stuff in the landfills. We're running out of space.
Dr. Patrice Luoma, Professor of Entrepreneurship at Quinnipiac University
Dr. Patrice Luoma, Professor of Entrepreneurship at Quinnipiac University
The Connecticut Department of Energy and Environmental Protection conducts statewide waste characterization studies to measure waste composition and amount.
96,521 of the 2,379,687 tons of landfill waste sitting in Connecticut in 2010 was composed of textiles. That is 4.1 percent of all Connecticut waste in that year.
131,904 of the 2,332,598 tons of landfill waste sitting in Connecticut in 2015 was composed of textiles. That is 5.7 percent of all Connecticut waste in that year.
Donating used clothing to donation bins may not be the most direct way of helping people in need in our communities, but it can help clothing resellers in developing countries and allows clothing to be recycled rather than thrown away to wind up in a landfill.
However, after learning this, some donors have thought twice about where they will donate their used clothing from now on.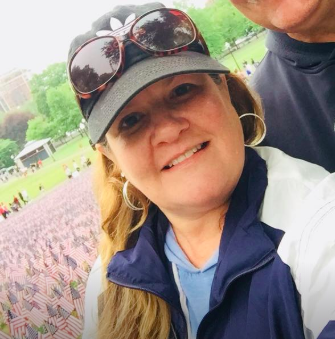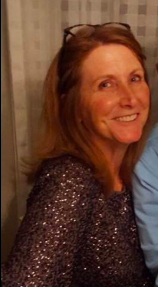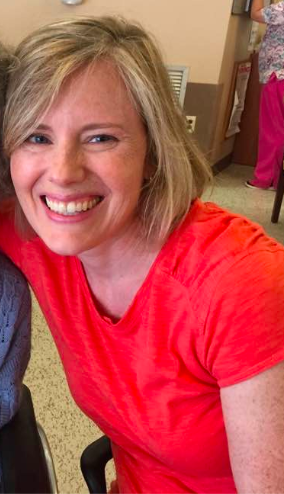 In addition to bins, other organizations you can donate to include:
Dress for Success, a nonprofit that provides women with professional attire to empower them to achieve economic independence.
Cinderella Project, a nonprofit that collects formal wear to help girls who can't afford them attend formal events at school.
The Salvation Army, an international movement that collects clothing donations to fund rehabilitation programs.
If you want to contribute more directly to your local community, call your local church and ask what kind of donations it may need, or call local homeless shelters or crisis centers.