The queens of New Haven
How the art of drag impacts one Connecticut city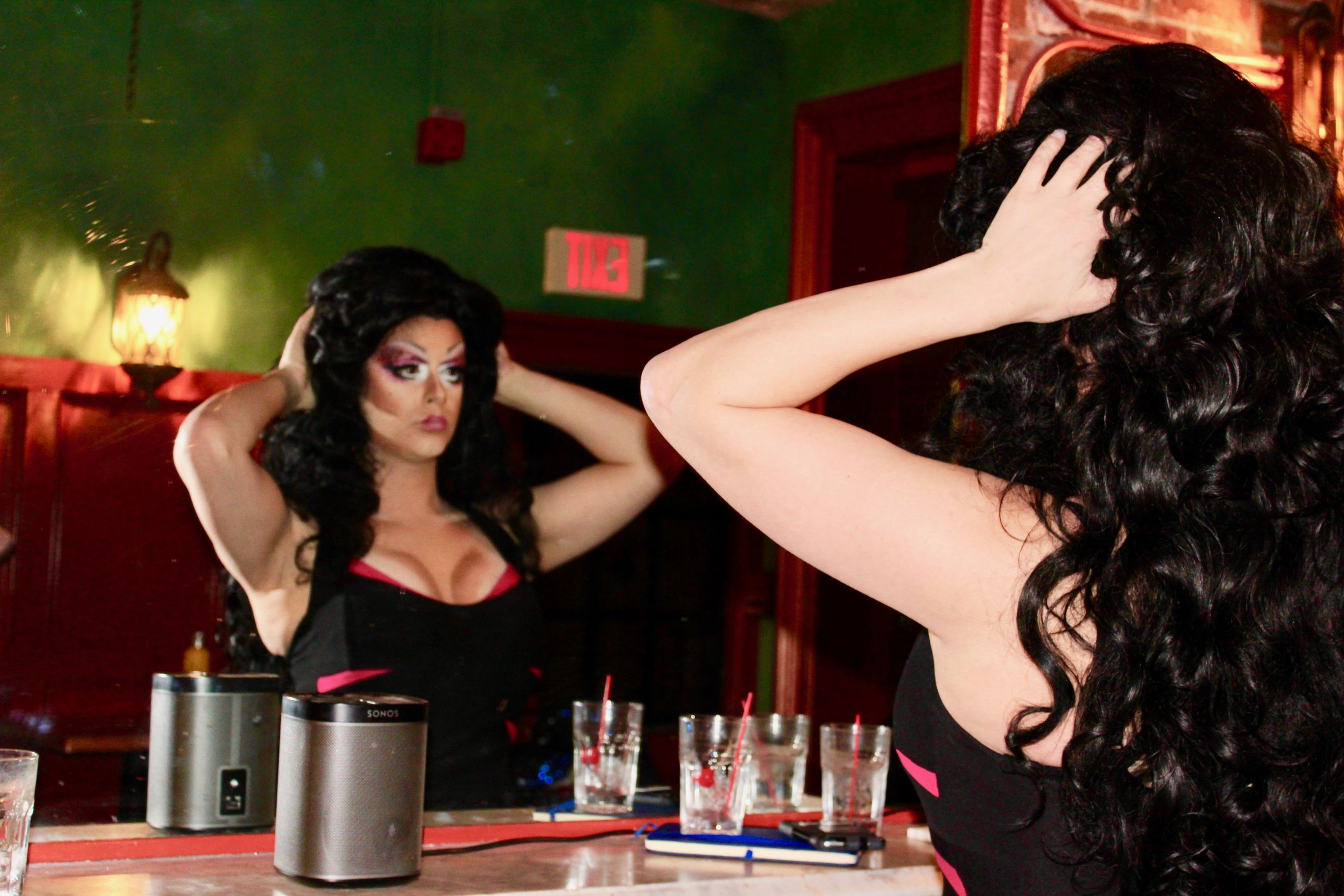 Kiki Lucia backstage before her weekly performance, "Let's Have a Kiki" at 168 York Street Cafe in New Haven.
Kiki Lucia backstage before her weekly performance, "Let's Have a Kiki" at 168 York Street Cafe in New Haven.
In between bursts of hairspray,
a towering figure in six-inch heels shakes her mane. Kiki Lucia applies fake lashes with precision, masks a flat chest with flawless boob contour and cinches her waist tight to form an hourglass figure. Lucia, 34-year-old drag queen extraordinaire, is ready for her show.
She descends the wooden staircase at 168 York Street Cafe in a hot pink dress and curly blonde wig. The small room below her is packed with regulars and drag show virgins with dollar bills ready to tip their reigning queen. She cues the DJ as "Barbie Girl" blasts through the speakers. Her fuschia lips break into a smile as she lip syncs each line, spinning and dancing down the aisle with grace.
Every Friday night for four years, Lucia has performed her personalized show "Let's Have a Kiki" at 168 York Street Cafe. She is one of the dozens of New Haven queens and is considered by some to be the "mom" of a drag scene that is starting to grow in popularity.
On any given weekend evening, New Havenites can find drag queens lip-syncing, sashaying and death dropping away at either 168 York Street Cafe, Partners Cafe or Gotham Citi. These bars and nightclubs have long been known for welcoming the LGBTQ+ community and are now increasingly home to the art of drag.
"It seems like drag queens are popping up like weeds," Daniel Eugene, a 35-year-old visual artist said.
Eugene, who is also a New Haven drag queen, has lived in New Haven for 15 years, but only started to participate in drag art during the last two. In late 2016, he stumbled across a drag show at Partners Cafe and was instantly inspired by the queens' performance.
"You've entered a new dimension and that was thrilling to me because here's a space and an energy that is the opposite of people holding on … everybody's letting go," Eugene said about watching drag performers for the first time. "The way that environment translated photographically was an explosion in me."
In an effort to celebrate the art, Eugene created the platform #NHVDrag where he produces several drag shows and works to promote the community through photography, poetry and other avenues. In September of 2017, Eugene self-published a photo booklet titled "#NHVDrag," which highlights drag queens performing at local gay bars.
Although New Haven is not known for its drag scene like the big sisters of New York City, Los Angeles and Atlanta, there is growing confidence that is palpable.
"These queens work as hard as anybody else; the opportunities are less, but there's a remarkable quality," Eugene said. "The cracks are opening up and the light is bursting through … that is what I love in drag."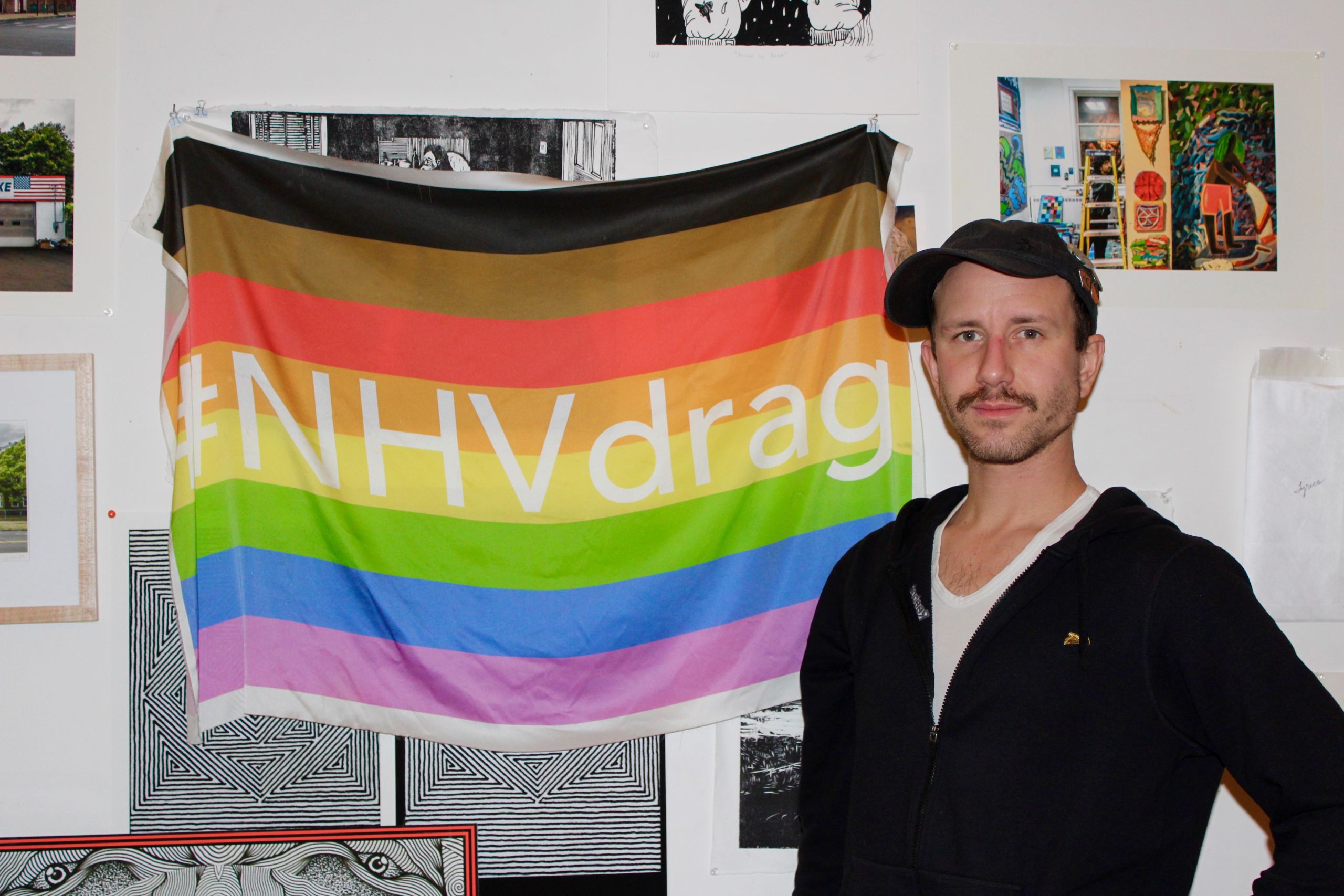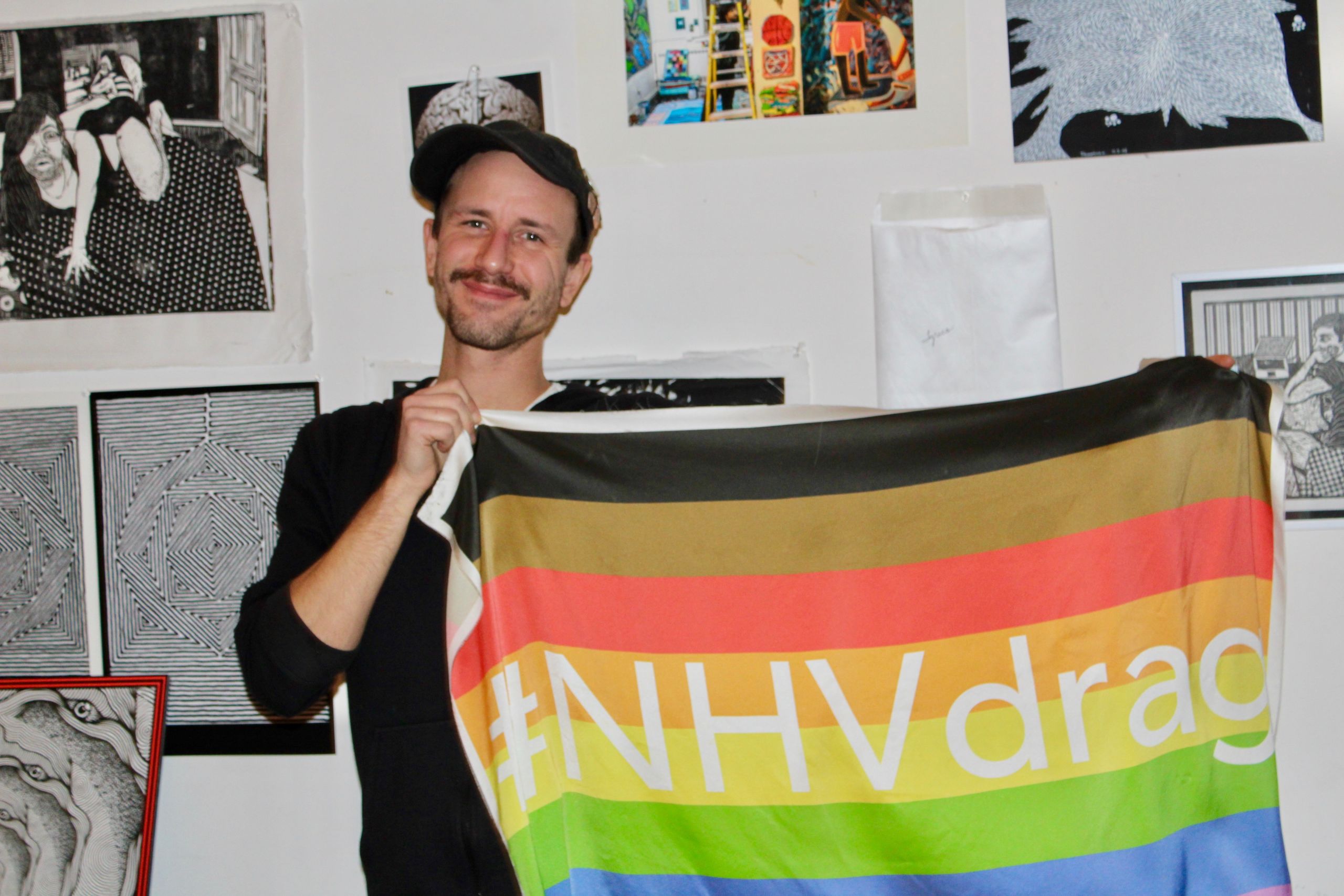 The cracks opened wide enough for Mimi Zschack, who at the age of 19 is New Haven's newest drag queen. Zschack identifies as non-binary and prefers gender neutral pronouns. Zschack attended a drag show for the first time at the age of 13 and fell instantly in love with the art.
After graduating high school, Zschack became heavily involved in New Haven's drag community, attending shows every week, especially "Let's Have a Kiki," where they met and became friends with established queens like Lucia.
In June 2018, Zschack performed an original number for the first time at 168 York Street Cafe for Dragapalooza. Rory Roux Heart, with her big red lips and bigger personality, was born.
"Personally, everyone has been super welcoming to me," Zschack said.
With their dance background, Zschack as Rory Roux Heart performs regularly about once a week in New Haven and throughout Connecticut.
"There's just so many different types of drag in New Haven," Zschack said. "You have everything happening at Partners which is very clubby, fun and upbeat. Then you have everything happening at 168 York and a lot of shows there have older queens and it's a more traditional drag. Then you have Gotham which is also clubby, but different than Partners."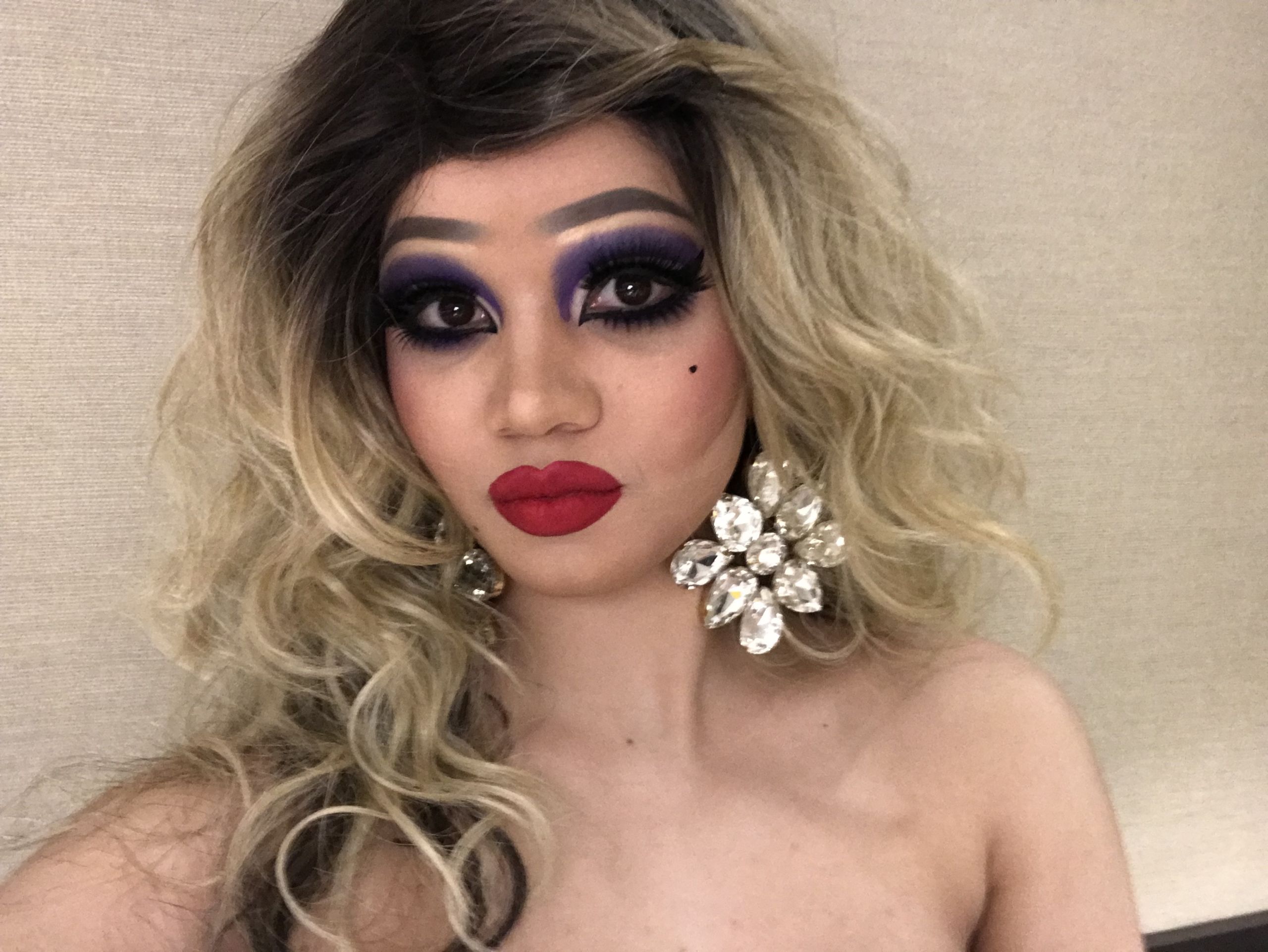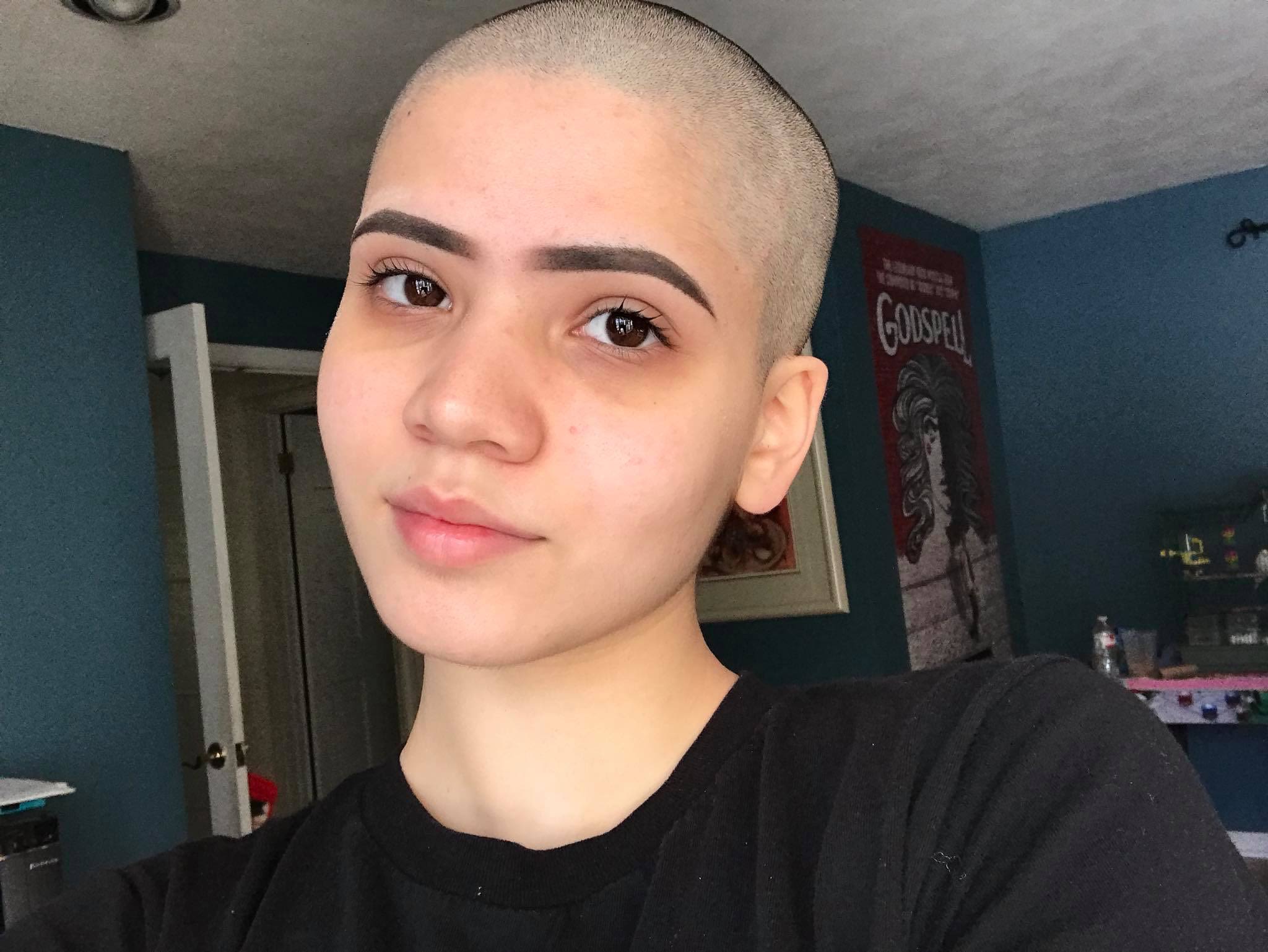 Bernard Klemens has been the hiring manager for Partners Cafe since the early 2000s and sees the effects of drag show popularity first-hand.
"It's part of the culture; people expect a drag queen and drag show when they walk into the bar," Klemens said. "It's very important to have them (at the bar) because they are the life of the party; they bring good energy."
Klemens credits the Emmy winning reality TV show, "RuPaul's Drag Race," and New Haven's open-mindedness to the recent explosion of drag queen popularity in the Connecticut city.
"Drag queens have a very good impact culturally so everybody can learn about them and the gay community," Klemens said. "Especially with 'RuPaul's Drag Race,' even straight people come to the bar and watch the shows."
Quinnipiac University psychology professor, William Jellison, has studied the LGBTQ+ movement and the progression of drag queens throughout the years.
"(Drag) has definitely become more mainstream and less underground," Jellison said. "Earlier on it would have been mainly done in gay bars and frequented by gay, lesbian, bi-sexual patrons and not as mixed as now. It's not a surprise now to find a diverse audience at drag shows."
Professor of psychology, William Jellison discusses the acceptance of drag and why it is important to modern culture.
Professor of psychology, William Jellison discusses the acceptance of drag and why it is important to modern culture.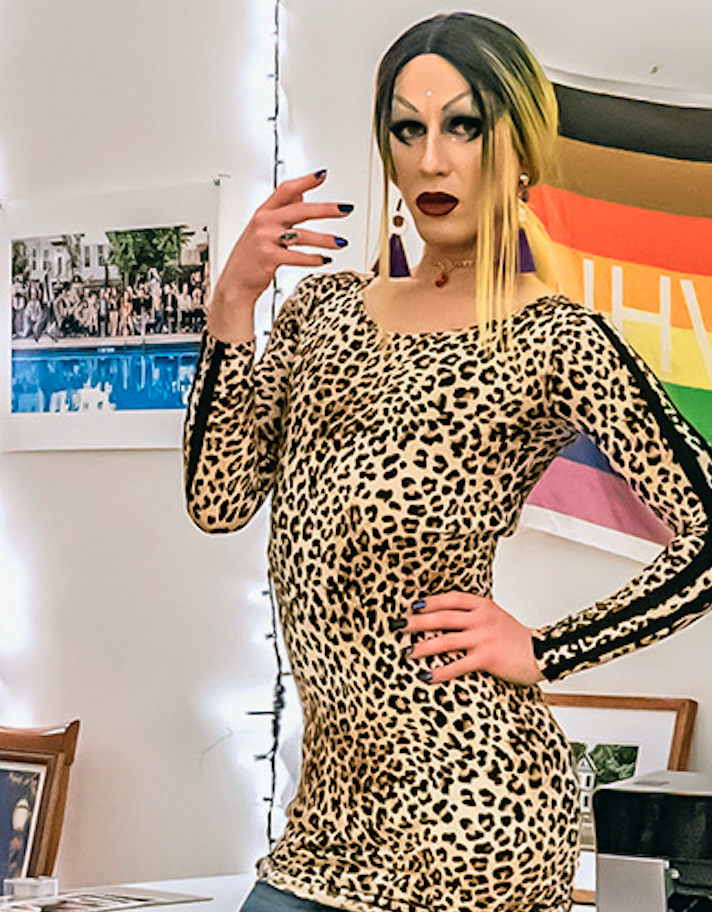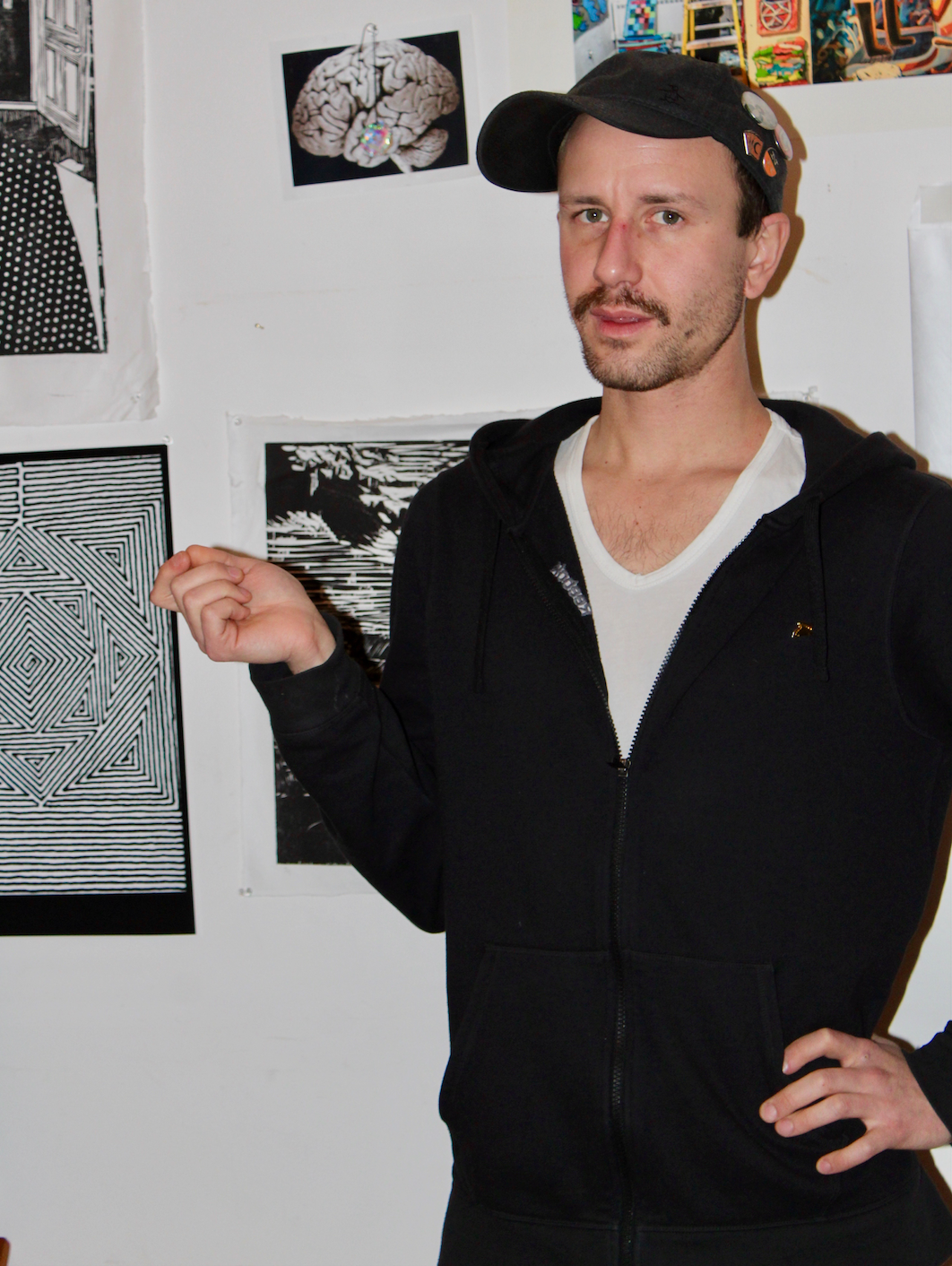 Since Daniel Eugene's entrance into the drag scene as Sorcial Warhol, his goal has been to build New Haven drag as an experience that everyone of all ages, backgrounds and genders can appreciate.
"This is what it's all about," Eugene said, showing a photograph of the audience after one of his home produced drag shows in New Haven. The picture includes an elderly couple, people of color and even children. "You're giving people an experience they otherwise wouldn't have. They walk away with the idea of drag, not as something they just see on television."
For Eugene, his path to becoming Sorcia Warhol was inevitable.
Growing up in Bethany, about a 30-minute drive from New Haven, Eugene experienced bullying at a young age. He came out as gay at the age of 13 and simply never fit in with the crowd.
"I've just always been a rebel," Eugene said, detailing his experience in high school that led to him eventually dropping out. "I would have graduated in 2002, so it was the tail end of when being gay was really not well received. It made you a target essentially."
Sixteen years later, Eugene has seen the evolution of being queer first-hand, transforming himself into the beautified vision of drag queen, Sorcia Warhol.
"Queerness has always been the Scarlet Letter put upon what makes you exceptional," Eugene said. "It's the difference between normalizing queer and queering normal."
This idea of 'queering normal' was collided for Eugene when he met Kiki Lucia after one of her shows. She welcomed him into the drag community instantly and they began to form a special bond when Eugene would photograph her shows.
"One of the most striking experiences I had with drag was the first time I went backstage," Eugene said. "They were like angels singing, the energy was crazy and it was so vulnerable."
This vibrant energy is something Kiki Lucia says she has thrived off for the past four years she has been performing drag. For Lucia, becoming a queen was a bucket list item she wanted to be crossed off, but never imagined where her wigs and drag evolution would take her.
"I like to think of myself as an activist drag queen," Lucia said. "About 50 percent of the drag I do is for charity and maybe even more."
When Lucia is not donning her numerous wigs and bright pink lipstick she is Patrick Dunn, who prefers backward baseball caps and cut-off tank tops.
As the director for the New Haven Pride Center, Dunn has raised money for its various philanthropic efforts. In April of 2019, he will be hosting a fundraiser called "The Library is Open" to raise money for local Connecticut schools to buy LGBTQ+ inclusive books.
"I personally think the act of drag is activism," Lucia said. "It's protest against gender binaries and against straight oppression. It's a visible impactful expression of how it's OK for our community to be different."
However, when an audience sees a drag queen brilliantly impersonating the likes of Britney Spears with a big white smile and bigger curves, they are not getting the whole picture. No one can turn into an illustrious queen overnight. It is what Lucia calls "an expensive hobby."
Before her "Let's Have a Kiki" show, Lucia pointed to the various clothing items, wigs, jewelry and fake nails she would adorn before the night was over. One set of earrings and a ring was $150. She wore four sets that night. The curly black wig she currently had perched on her head? $160. Her entire face of makeup? $35. $60 shoes. Two pairs of pantyhose that are ruined after one night. $12 of lashes that will only bat flirtatiously for a single show. Another wig that was still in its box? $120 and that was the discounted price.
"On any given night I probably have anywhere between two and five thousand dollars worth of cost on me," Lucia said. "Drag is an investment….you need to make money or you can lose money."
On the day of a show, the process of turning from Patrick to Kiki starts immediately when the queen wakes up. She will shave her entire body, leg hair and all, and start painting her face at 6:45 p.m. for a show that doesn't start until 10 p.m.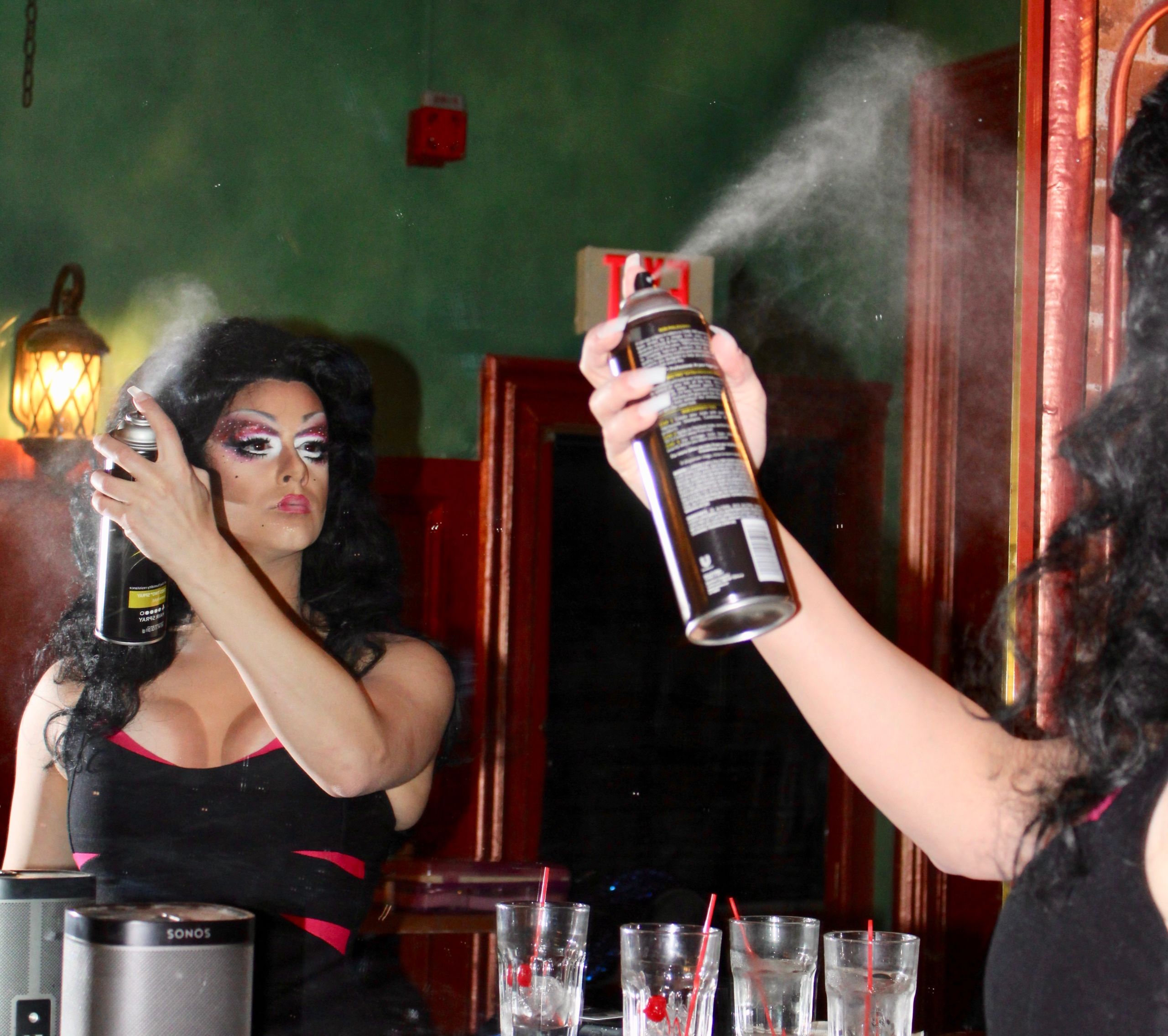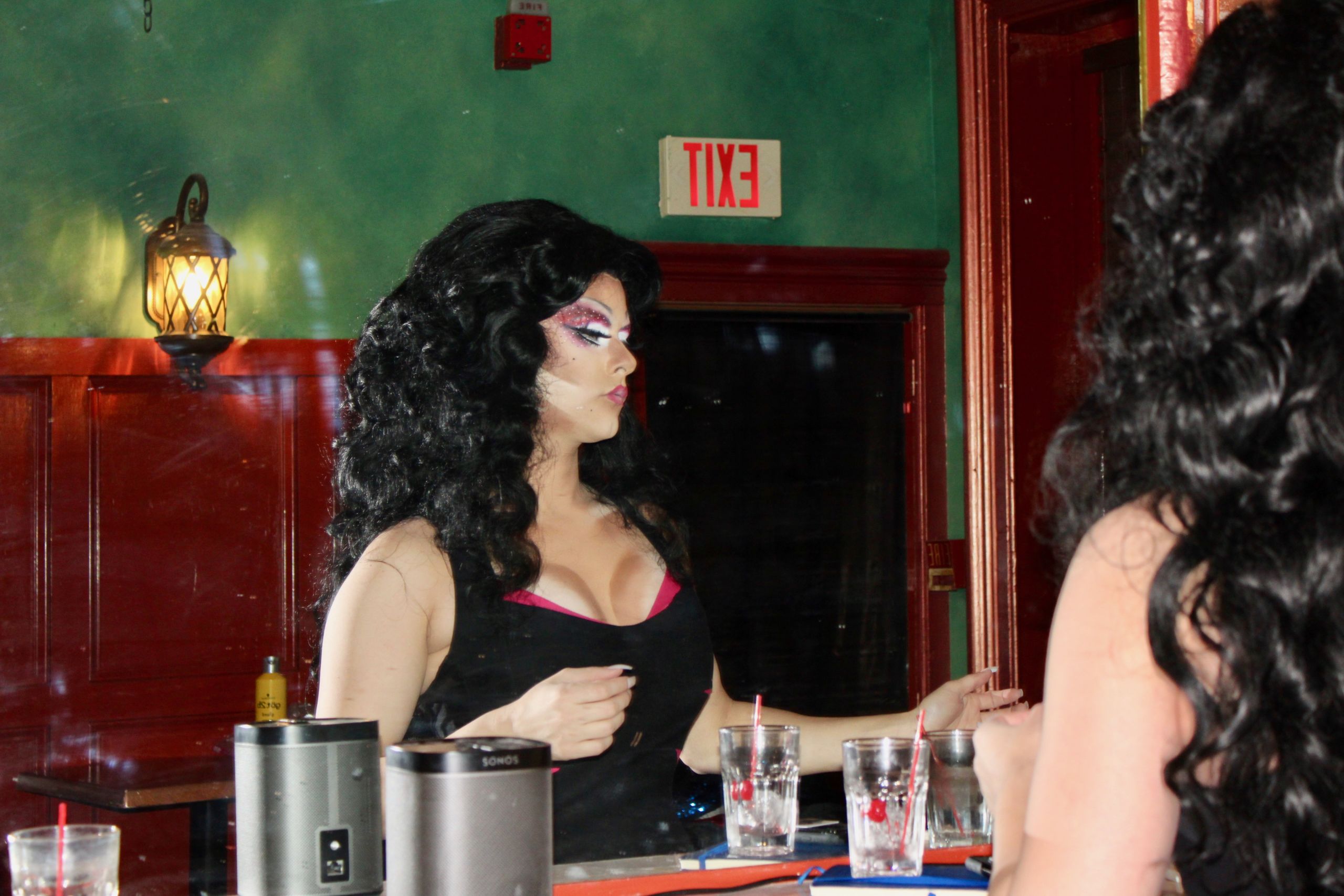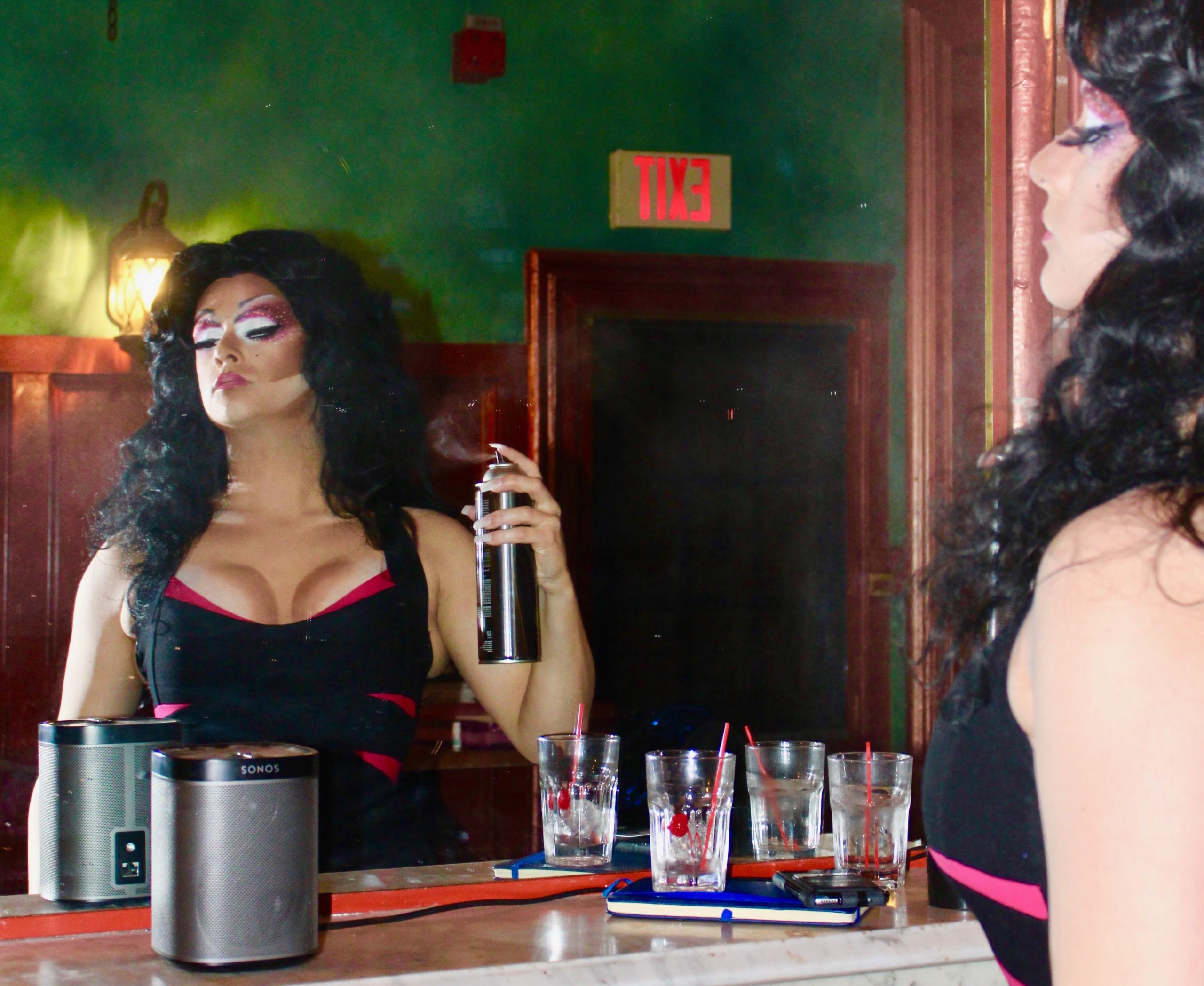 Patrick Dunn turns into Kiki Lucia as he spends almost two hours doing his make up for the night.
Patrick Dunn turns into Kiki Lucia as he spends almost two hours doing his make up for the night.
"I have to maintain my body too, like I can't gain weight," Lucia said. "If I gain weight, I have to throw away thousands of dollars of costumes."
Drag is an exhausting, expensive and demanding lifestyle -- one that many New Haven queens have tried and failed to be successful at, according to Lucia. So what's the key, then? What makes the heels, late nights and poor tips all worth it?
"When I talk to new queens who ask how I create that persona I say, 'take the things you love about yourself and blow them up and make them larger than life, and take everything you hate about yourself and do the opposite,'" Lucia said as she slips on five-inch black pumps.
Drag is a celebration of true life. As Patrick Dunn, Lucia would never walk up to a boy he thinks is cute. But as Kiki, she has strength and courage and instead will say, "You have a nice ass, buy me a drink."