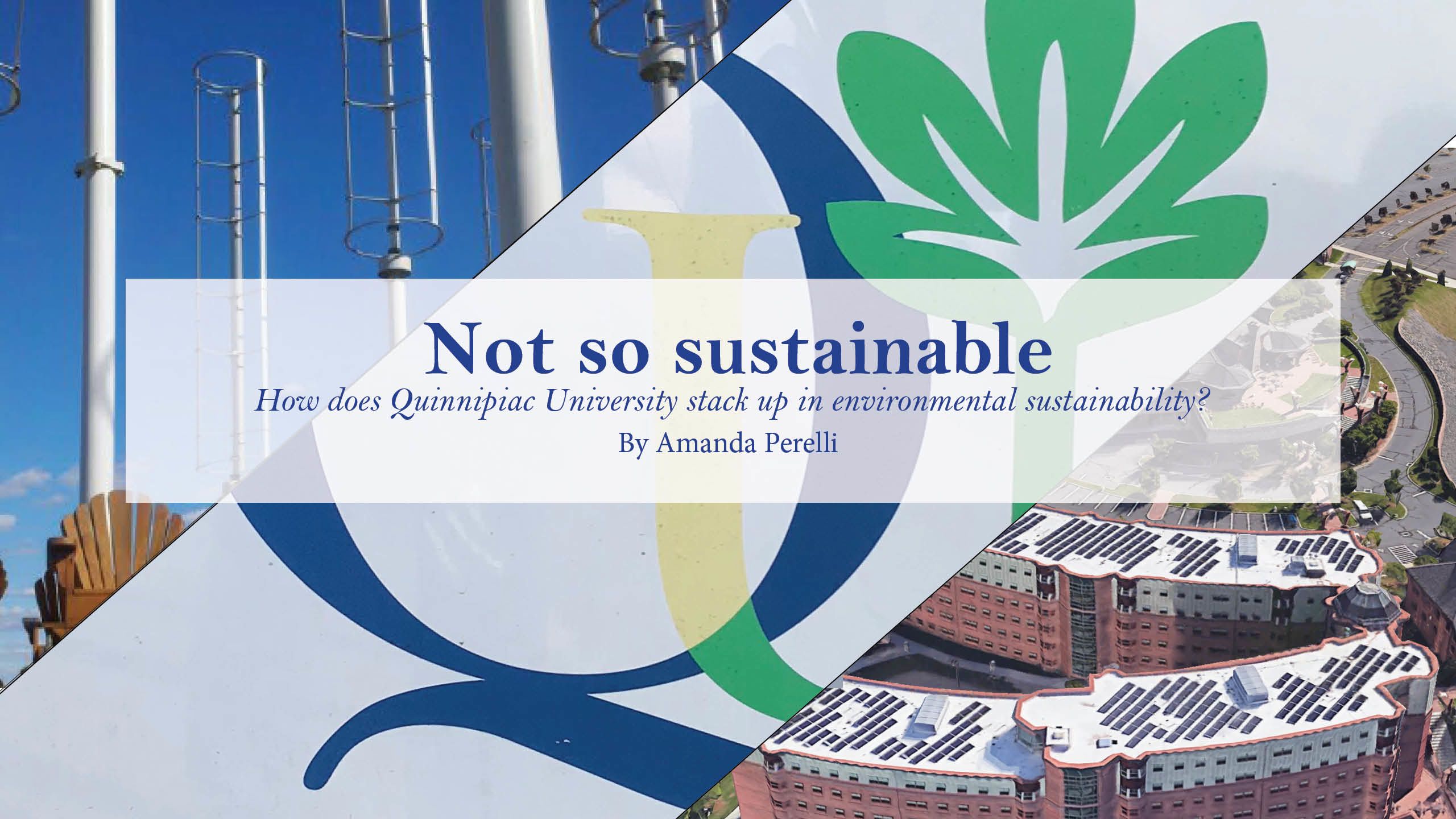 Quinnipiac University, in Hamden Connecticut, claims to be committed to "building one of the most environmentally friendly campuses in America," according to its 2018-19 Student Handbook. But, the private institution still has a long way to go–with more steps taken back than forward from the university.
With single-stream recycling, BRITA Hydration Stations, solar panels, geothermal wells and a windgarden, Quinnipiac presents itself as a leader in sustainability. At first glance, it's easy to think Quinnipiac is on track to fulfilling their mission.
How does Quinnipiac stack up?
The University of Connecticut (UConn), roughly an hour northeast of Quinnipiac, has an Office of Environmental Policy, which according to its website, "continues to direct 'green' campus initiatives, energy and water conservation, and environmental literacy."
In 2016, UCONN received a GOLD rating on it's Sustainability Tracking, Assessment & Rating System (STARS) submission, posting on their website, "Although STARS does not publish rankings, of the 230+ schools with current STARS 2.0 ratings, UConn had the second highest score."
STARS, a self-reporting plan for colleges and universities to measure their sustainability performance, is intended to give colleges and universities recognition for taking first steps toward sustainability.
No one from Quinnipiac has submitted the university for a STARS rating, but in 2014 Quinnipiac conducted a campus culture report with Resonate Sustainability Search, a global recruitment firm specializing in all aspects of environmental, technology, renewable and alternative energy.
In the report, 64 percent of QU students who completed the survey agreed that, "Most QU students are not really concerned about sustainability issues."
The student survey results show that 55 percent of students who took the survey are willing to get involved in that effort, agreeing with the statement, "I would like to become involved in sustainability projects or events on campus."
Students Against Environmental Action (SEA) has been a club on campus several different times, but continues to struggle as student interest is inconsistent.
Leah Lavin, vice president of SEA and student at Quinnipiac helped revive the organization this semester, with hopes of the organization taking off.
ELECTRICITY
When the University was developing a building plan for the York Hill Campus, built in 2009, they had two major 'green' initiatives in mind.
"The first is a wind garden composed of 42 vertical-axis wind turbines that will generate about 84,000 kilowatt hours per year," according to an O&G Industries report. "They are built into a garden, complete with stone benches providing an area for student gathering and reflection. The second is the placement of 1,232 photovoltaic solar panels on the roof of the 475,000 SF Crescent Residence Hall, converting energy from the Sun to electricity and generating about 250,000 kilowatt hours per year."
Ten years ago, The New York Times published the article, "Quinnipiac to Harness the Wind for Power," reporting that Quinnipiac's 'wind farm' built on their York Hill Campus, will, "serve as a symbol of the green technology that is guiding the construction of the new campus."
Since that article was published, Quinnipiac's wind farm hasn't lived up to its promise. The turbines no longer function, as reported in a 2018 Quinnipiac Chronicle article. The wind farm, installed in 2008, serves as a symbol of sustainability rather than actually producing reusable energy because the manufacturer, Windspire, went bankrupt in 2012.
"Windspire Energy, formerly Mariah Power, filed for federal bankruptcy protection in January. The company had gained a great deal of attention for its slim vertical wind turbines and had sales of $11 million in 2010, but revenues plummeted by 75 percent the following year," according to a 2012 Northern Nevada Business Review article.
Real wind farms have immense turbines that are hundreds of feet tall, which would not function well on York Hill Campus as they take up space and are loud, according to associate professor civil engineering and director of civil engineering program John Greenleaf.
"Most of them don't even move anymore, there's a couple that still spin, but they are disconnected and are not generating power," Greenleaf said. "Honestly, that's a pretty small wind farm. It's more of kind of a demonstration scale–but I think that's good. Some of it is just for show, 'hey look we are doing this.' You can have students design things and try and implement them up there. Like a windtower design–could be a chance for an educational experience as well. "
The 721 solar panels sit discreetly atop the dorm building Crescent, according to Keith Woodward, associate vice president for facilities operations.
The university also installed a geothermal heat pump system, with 48 wells in a closed loop system, approximately 500 feet deep. Geothermal heat pumps, or wells, create energy efficient heat by transferring energy to and from the earth, according to Energy Homes.
"There's a lot of good stuff up there that you don't even know because you don't see the solar panels, you don't know the wells are there," said Greenleaf.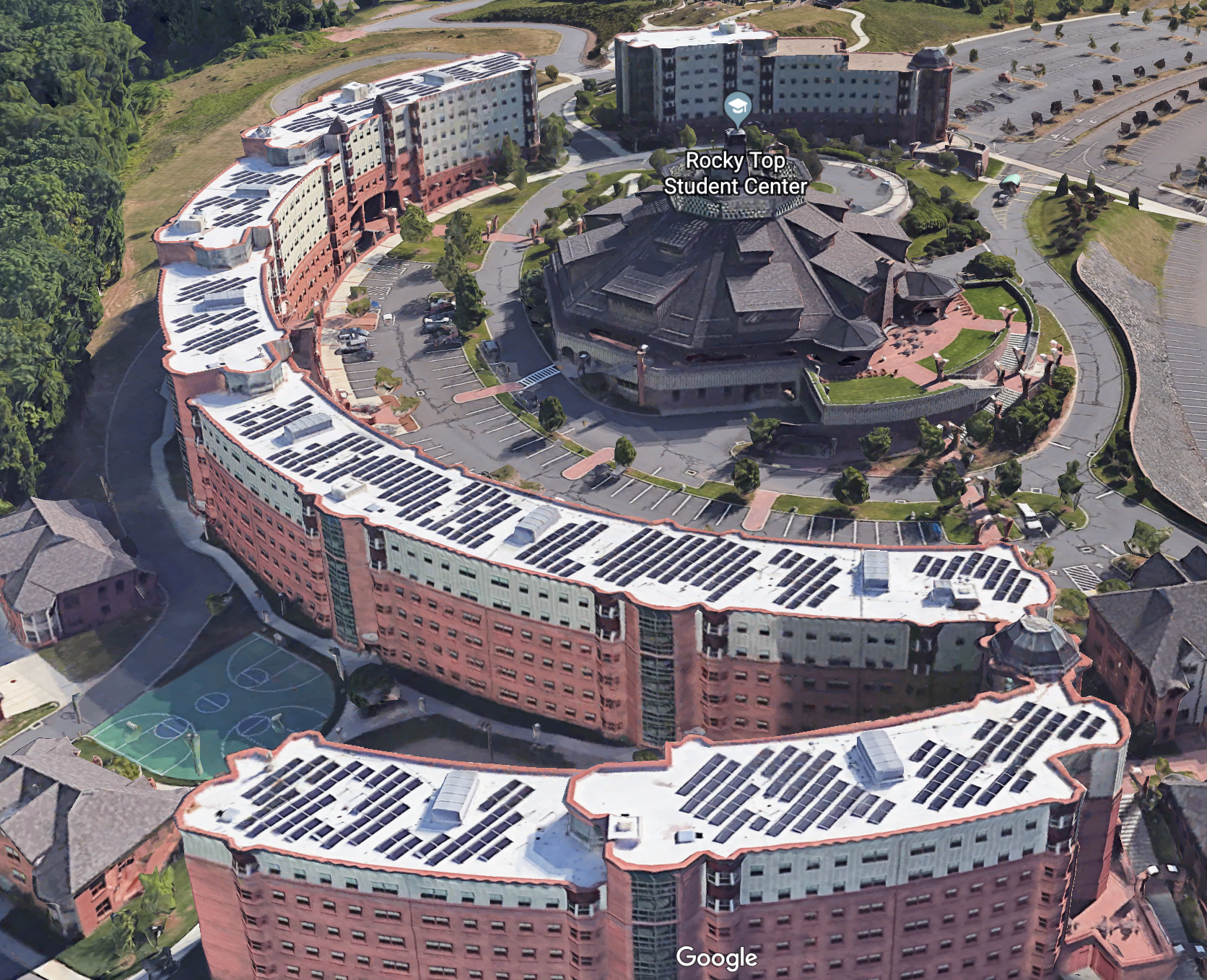 TRANSPORTATION
Quinnipiac University student residents are divided into two campuses, Mount Carmel Campus, which is the main campus and York Hill Campus, with several upperclassmen living in off-campus houses, walking distance from the school.
The biking culture on campus is slim to none, as many students find the roads leading up to the university to be unsafe. With minimal sidewalks and windy poorly lit roads, it makes sense why.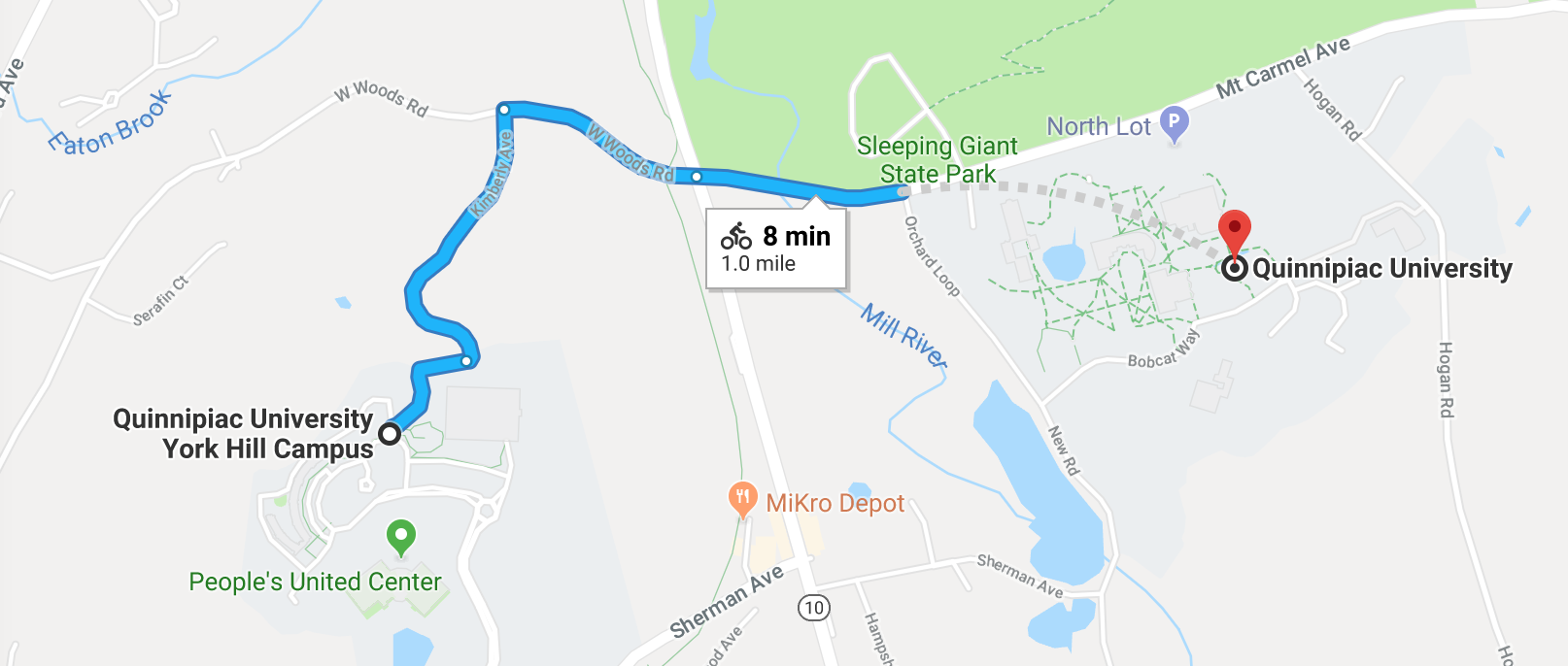 In an informal Google Forms survey sent to Quinnipiac students with 42 participants, 40 responded 'no' to if they ride a bike to the Mount Carmel Campus.
When asked how they get to main campus, 19 responded with taking the Quinnipiac shuttle, 11 said they drive solo. Of those who live off campus, 22 said they drive to campus alone from an off campus quinnipiac house and one responded and said that they ride a bike.
Executive Director of Quinnipiac's Albert Schweitzer Institute, Sean Duffy, wants to promote an environmental legacy within the campus.
A bike share program, where students can rent bicycles on campus for a small fee, could decrease the number of students who drive from one campus to another.
In the informal survey, students said they are less likely to carpool because they have contrasting schedules from their roommates, in turn creating a considerable parking problem on the main campus with an excess of vehicles.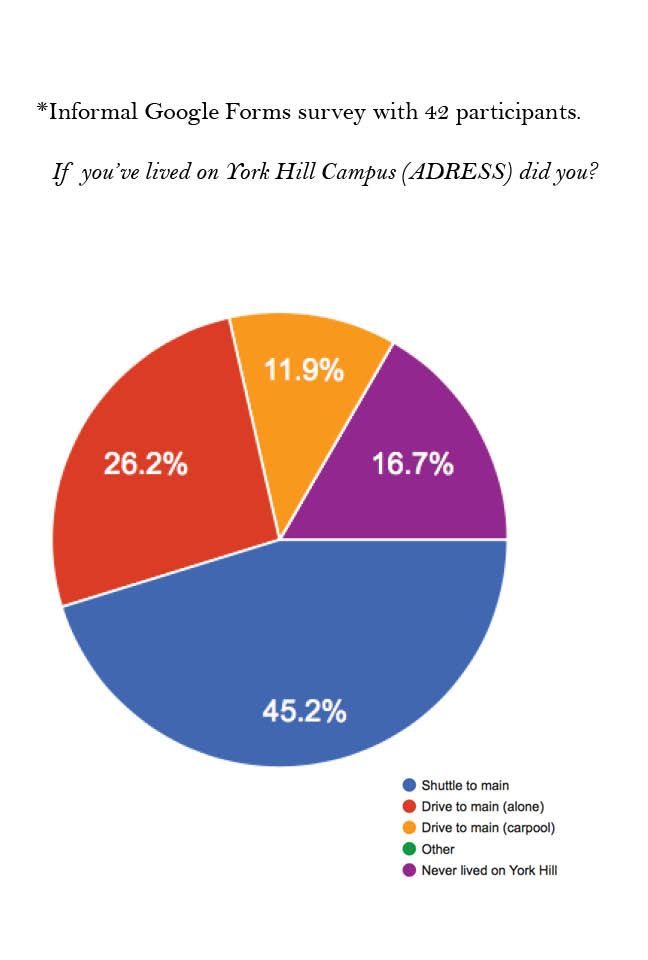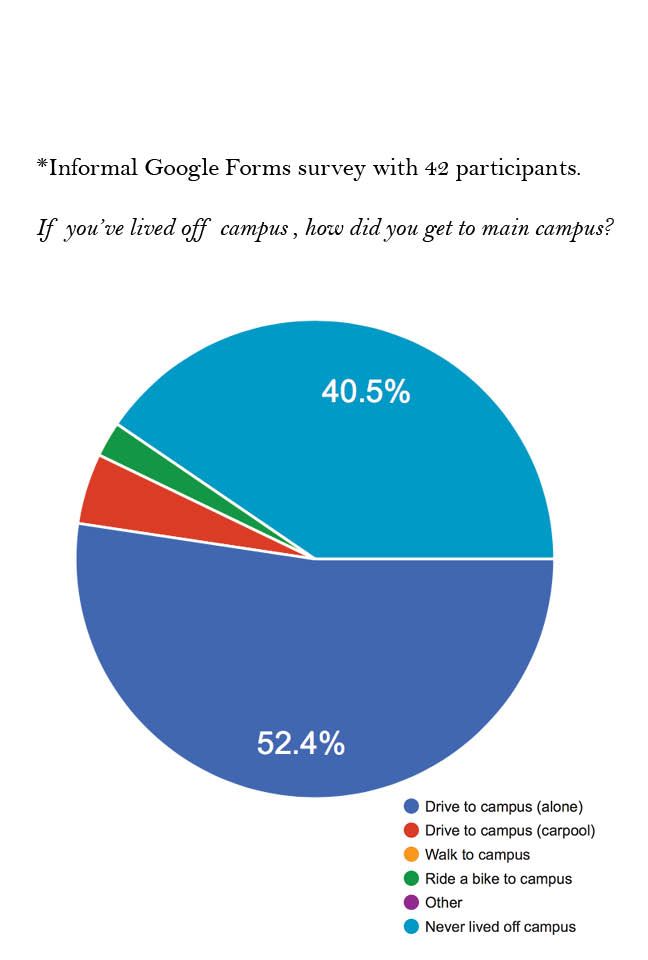 Click the arrows on the map below to view what the sidewalks leading up to the University look like.
"With the construction of this campus, there is no way to get here unless you drive here," Duffy said. "There's no path. [We need to] make bicycle friendly paths and connect the center of campus to the roads outside of it."
Twice a day the university could transport the bicycles left on campus, to another.
"This could be something that could get people away from their cars and the shuttles–which no one is happy with the shuttles," Duffy said.
According to Google Maps, it takes 8 minutes to travel from York Hill Campus, down to the Mount Carmel campus via bike on Kimberly Avenue.
"When I first started working here I used to bicycle to work and I would go to the gym and change there," Duffy said. "I think more workplaces are making it easier to incorporate different modes of transportation and I think we can be doing that as well."
FOOD WASTE
Currently, SEA collects food waste outside of the Quinnipiac cafeteria once a week for four hours in large clear buckets, both for awareness and for data.
"We ask anyone who has food waste to scrap the waste into the buckets and if they don't have any food waste we give them a dining dollar," Lavin said. "Every Tuesday we weigh how much food waste we've gathered and that is giving us very hardcore data that we can present."
Quinnipiac's main cafeteria wastes an average of 80 quarts of food waste every four hours, according to data furnished by SEA.
"That's just one tiny location–and I even see people walk past and throw their food out in the garbage," Lavin said. "I think sustainability is everybody's issue, because climate change effects everybody. I think as a University we haven't taken the initiative to be a forefront university when it comes to sustainability."
What Quinnipiac is doing, is implementing change when the students ask for it.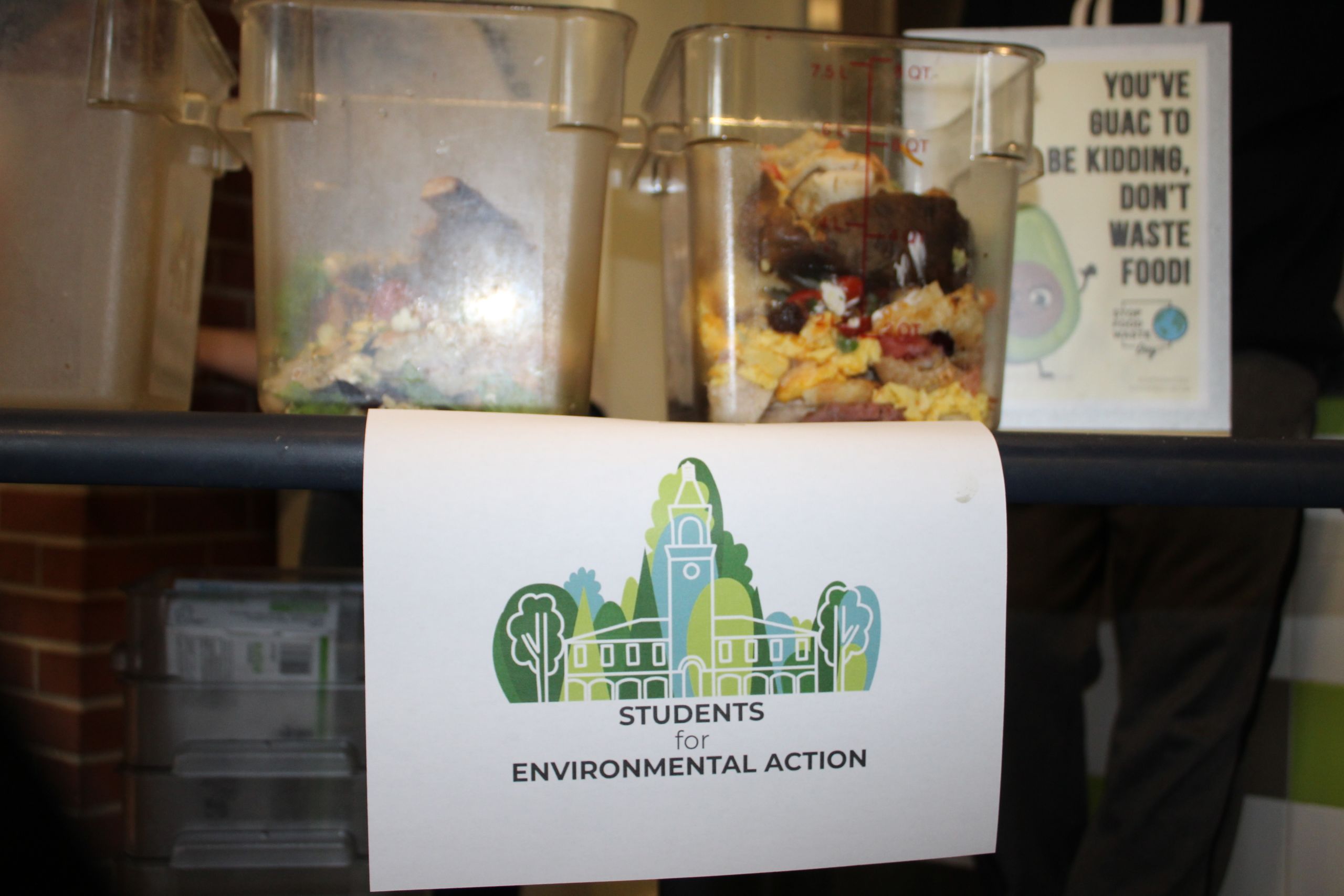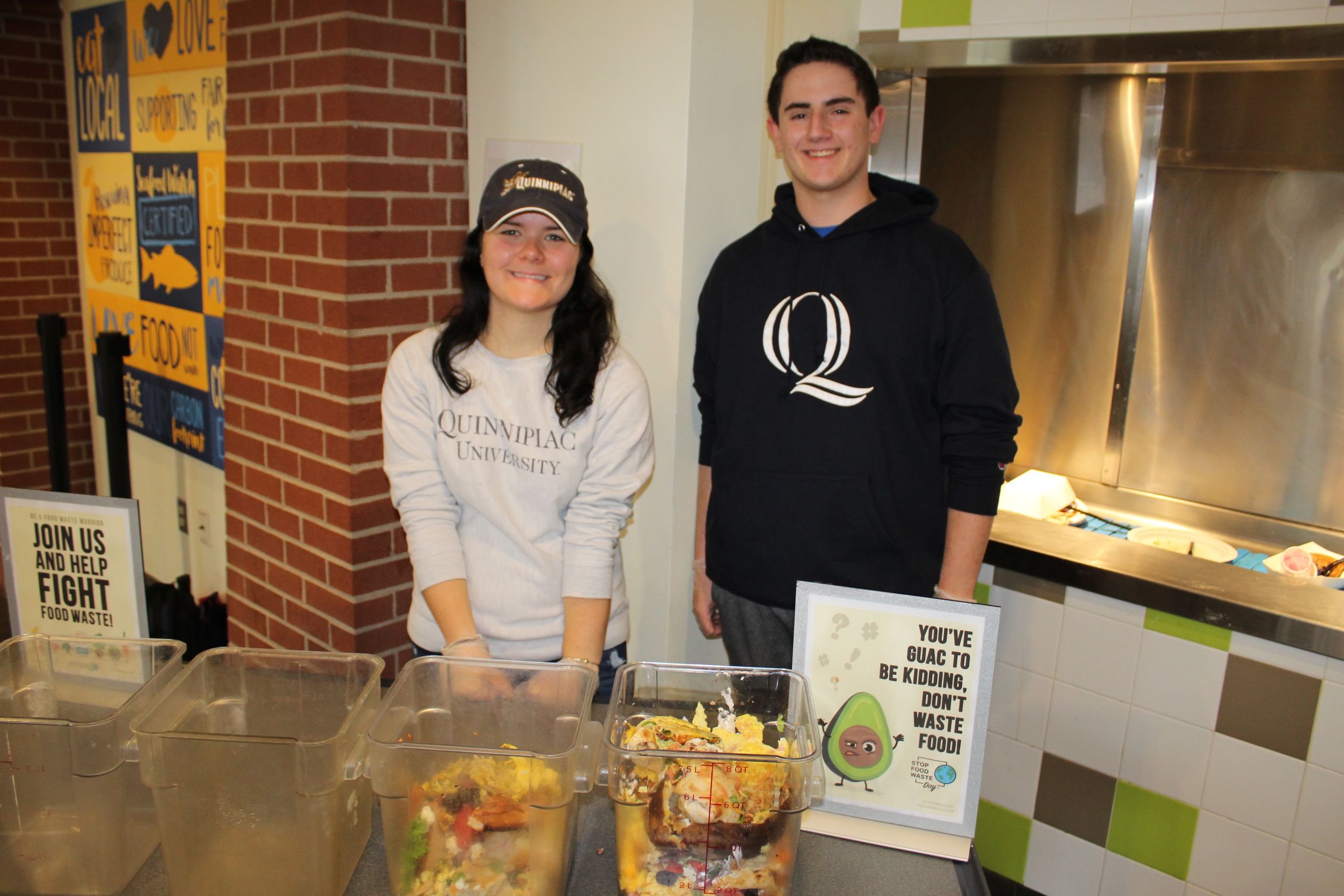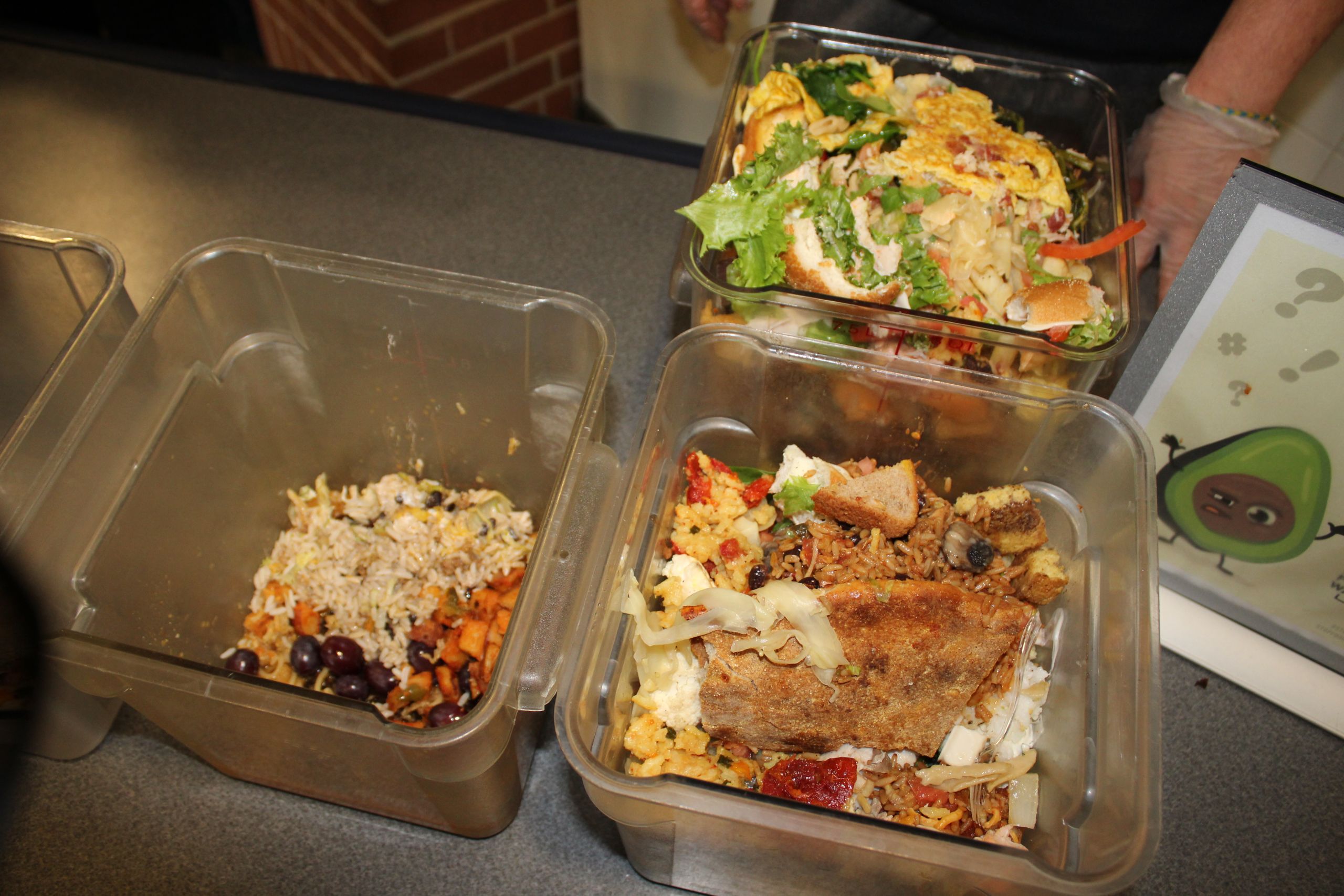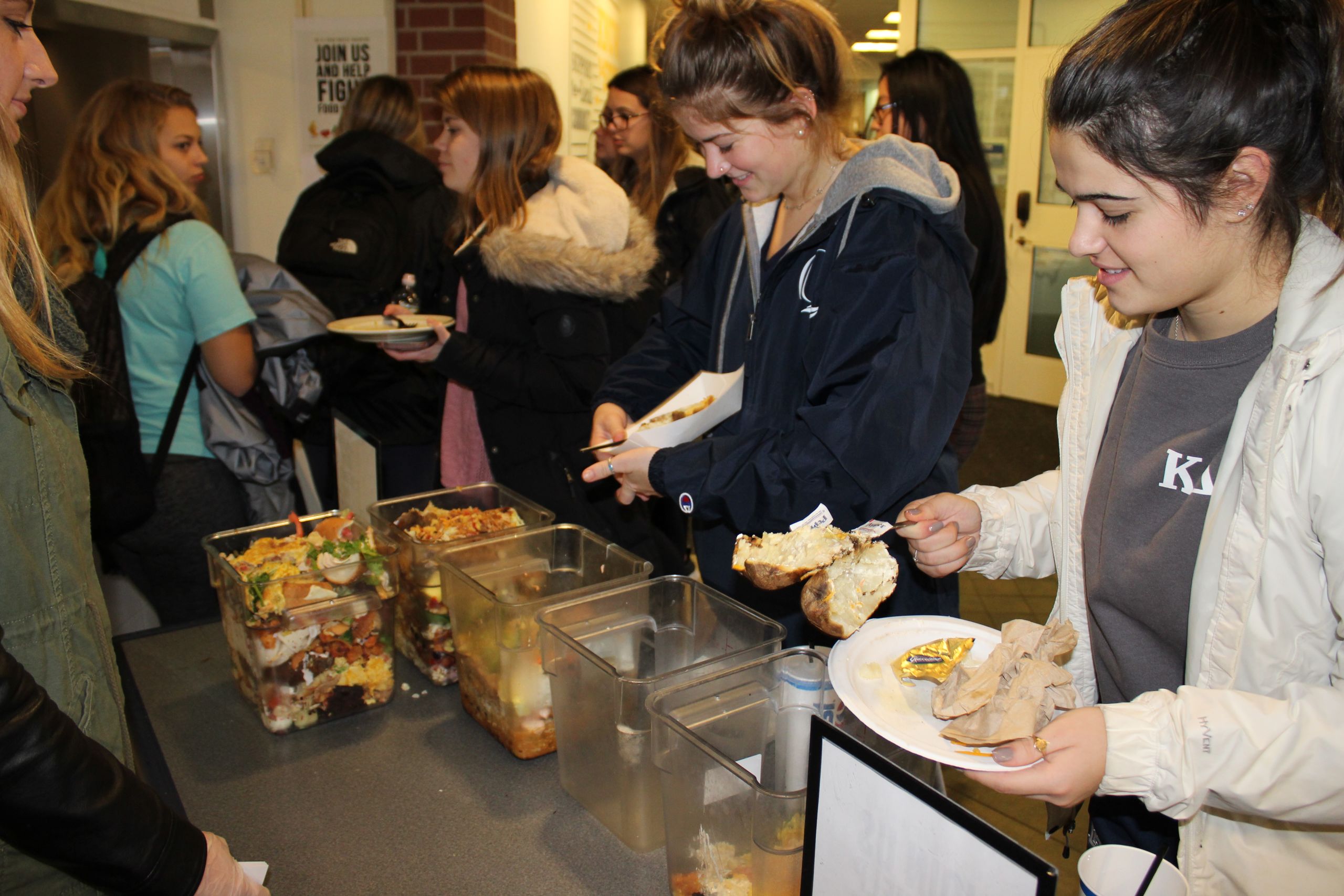 RECYCLING
The university uses a single-stream recycling system.
Assistant Director of Sustainability at Connecticut College, Margaret Bounds said that means that all of the different types of recyclable materials can go into one bin, including paper, plastic, aluminum and glass.
Lavin debunked the wide spread rumor that the university doesn't recycle, sharing that the reason we so often see both recycling and trash combined together by facilities at the end of the day, is because facilities is not allowed to reach into the trash. Therefore, if there's something in the recycling bin that's not recyclable, the entire bag is contaminated.
"Properly separating recycling and trash is really important and it really has to be on the consumer," Bounds said.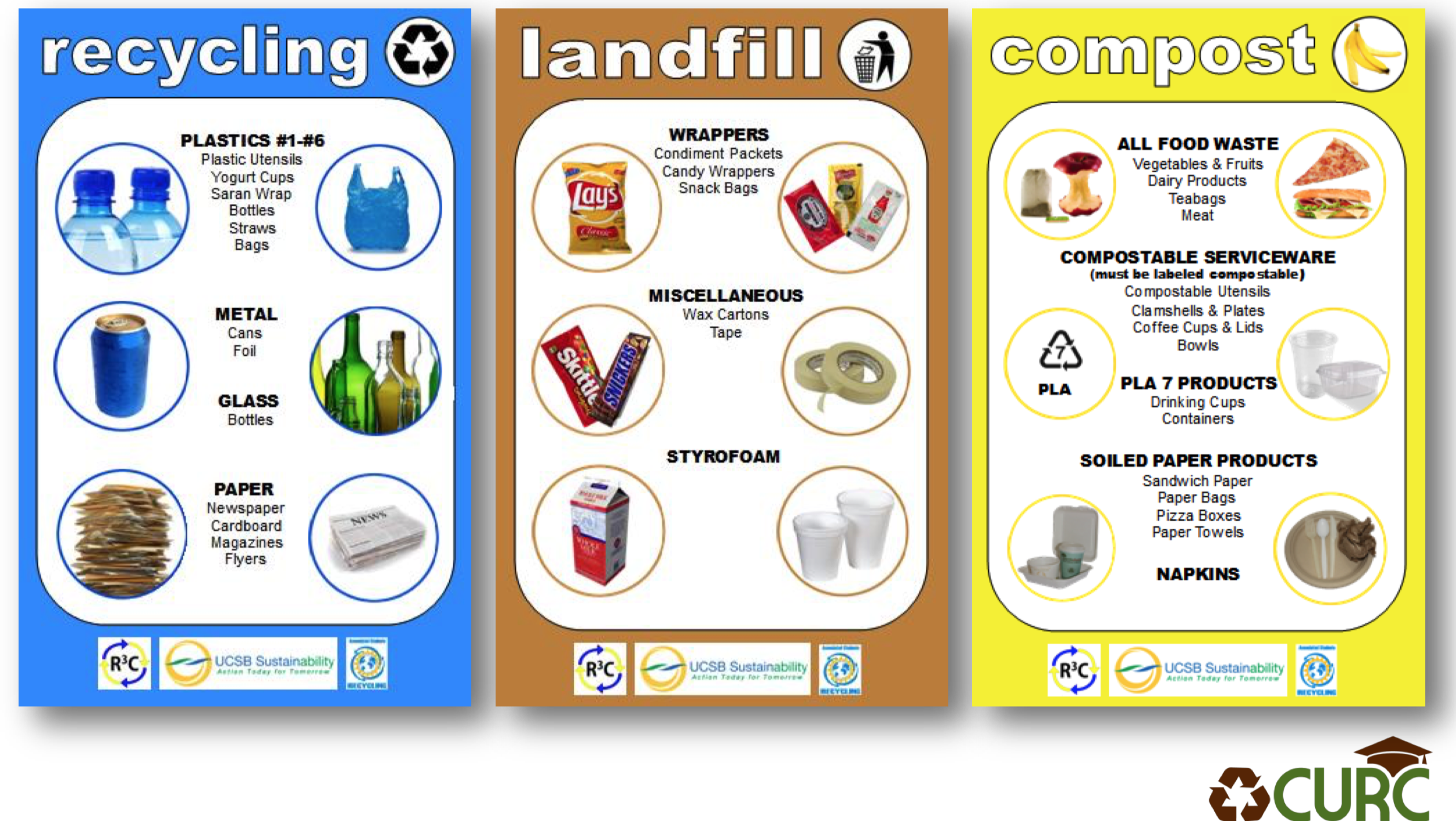 Bounds and Lavin agree that if the students want to see the university recycling more, it's on them to be mindful of what trash goes where.
"Some ways you can educate about recycling include signs right at the bin, including the information on your college website, including the information in your first year student welcome packet and/or during orientation, and holding events focused on recycling and waste." Bounds said.
No Sustainability Staff
The Quinnipiac student newspaper reported in 2015 that the university would think about hiring an administrator to guide its sustainability efforts. The Chronicle, however, quoted the associate vice president of operations and Sustainability Committee member Terri Johnson that "this may not happen soon."
Now nearly four years later, Johnson was right, and the university is still without anyone in charge.
John Reap, associate professor of mechanical engineering and member of Quinnipiac's Sustainability Committee composed of staff, faculty and students, has a strategic plan he thinks could help solve the university's areas of concern.
"Sustainable governance at Quinnipiac is close to nonexistent," Reap said. "What I would expect to see is a Chief Sustainability Officer (CSO). This individual should be reporting directly to Olian."
Currently, Quinnipiac "doesn't have a person period," according to Reap. Keith Woodward, associate vice president for facilities operations, is often left taking on that responsibility.
A CSO would report on the environmental state of the campus, progress on environmental initiatives (electricity and consumption) and creating a more transparent atmosphere.
"It's a lot of paperwork, time and meeting other people's format," Reap said. "It's a big time consumer that doesn't meet a lot of environmental value, but it does help with the social component of telling the students, the administration, the faculty and the prospective students, what we are doing here and why it's important."
Other than the CSO, Reap would like to see an Office of Sustainability on campus.
Reap met with Quinnipiac president Judy Olian during her office hours this semester to speak with her about his ideas on sustainability and sent her a letter outlining these ideas and their importance when she first took office over the summer. There have not been any known plans from Olian, who replaced long-time president John Lahey in July, to incorporate sustainability into her Strategic Plan.
Bounds shared that an Office of Sustainability can be helpful, but isn't mandatory in implementing change.
For resources, students can look towards groups like The Association for the Advancement of Sustainability in Higher Education (AASHE) and the Northeast Campus Sustainability Consortium (CURC).